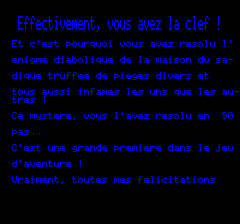 There won't suspense, Rendez-vous avec la terreur isn't a good game and the list of the defects is long.

There's no really adventure in this game(it's terrible for an adventure game) you have just to visit the house and avoid the monsters and the traps. The rooms are followed without any logical, for example a crushing machine is next to the bathroom.

The collected objects, except for the key and of the magnetic card, are use only for the combat (I finished the game without taking any objects).

Graphically all the rooms are identical, but with different colors, and some "accessories" are added to break monotony.

The sounds on the other hand are varied and punctuate your actions and your deaths…

However it's felt that the author tried to make the game interesting, the fights could have been fun and add a little interest, but they are useless. There's a research in the variety of the places, but graphically they're identical and the map of the house isn't interesting.

You can play this game only for two good reasons, the curiosity to see if you agree with my opinion, or because you never finished it and you want to do it.